Auto loader
Series :Plastic Auxiliary Machine
Brand :SANSHUN
Model :Vaccum Auto loader
Applications :For loading raw material & granules automatically
SANSHUN Machinery is one of the top 10 Chinese injection molding machinery manufacturer. We are manufacturing different types of injection molding machines, injection blow molding machine, and Auxiliary equipment. Our machines had been exported to more than 60 countries.

Characteristics
Sanshun Machinery offers total Material Management support from Auxiliary equipment products, system design, installation, technical support and customer service. Sanshun competitively delivers advanced designs and the highest quality equipment. Our technologies in material conveying, storage, drying, and blending gives you every advantage in your processing applications. We handle a variety of unique auxiliary equipment for molding with a focus on injection molding machines which are used as processing equipment. Our product lineup is extensive and various offerings are available to meet quality improvement and practical requirements of customers. We provide you with our best suggestions to meet your needs.

Advantages
Heat Transfer systems, environmental, low noise, quick response, high-efficiency, high-speed automation, customized material handling systems, Easy plastics processing operations.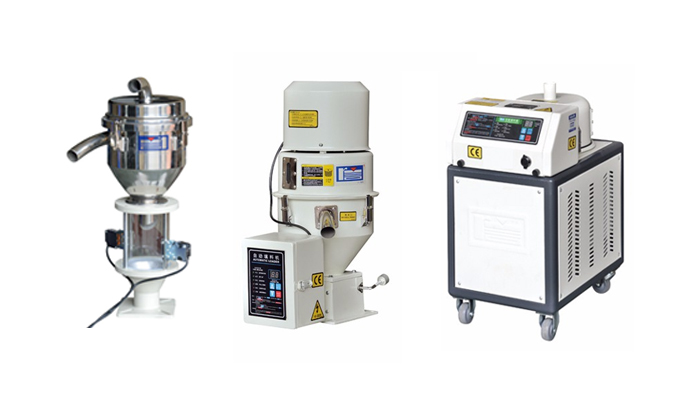 Technical Parameters
Model
STL-300GN
STL-600GN
STL-800GN
STL-900GN-2
STL-800GN2-P
Motor
Type
Carbon Brush
Induction
Induction
Induction
Induction
Specification
1.1kw 3Ø
1.1kw 3Ø
2.2kw 3Ø
2.2kw 3Ø
1.1kw 3Ø
Conveying Capacity(kg/hr)
400
450
550
450+450
650
Static wind pressure (max)
1500mmAq
1450mmAq
2000mmAq
2000mmAq
1450mmAq
Filter
Ø185×110H
Ø185×110H
Ø185×110H
Ø185×110H
Ø185×110H
Volume of Material Hopper (L)
6
6.5
6.5
6.5 +12
18
Inside Diameter of Conveying Pipe(mm)
Ø38
Ø38
Ø38
Ø38
Ø38
External size(mm)
Main Body
L W H
480×310×430
680×370×500
700×370×500
850×480×740
680×370×500
Material Hopper
L W H
430×440×295
430×440×295
430×440×295
430×440×500
430×440×700
Weight(KG)
Main Body
26
55
65
70
60
Material Hopper
6
6
6
6+6
12
Advantages & Features
.The main engine and the material hopper are designed separately and thus it is safe, easy and convenient to be operated.

.The whole operation is controlled by Micro Trip computer.

.Equipped with an independent filter, which is very convenient to clean up dust.

.The equipped muffler reduces the noise in operation.

.Stainless steel material hopper is light in weight, durable and very convenient for cleaning the device.

. The control box, being designed separately is easy to be well maintained.

. Auto-buzzer will give alarm while lacking material.

. Auto-protective device protects motor against overloading.

. The bunker with electronic eye can be installed on the charging inlet of molding machine directly.

. The air revolving dust arrester reduce the clean times of filter is suitable for the grinded material conveying.

. Can select two-material proportional valve ,used for new material mixed grinded material using or instant receiving of grinded
material.
Get the latest price? We'll respond as soon as possible(within 12 hours)