>
>
>
Mould temperature controller
Mould temperature controller
Series :Plastic Auxiliary Machine
Brand :SANSHUN
Model :Mould temperature controller
Applications :keep a proper stable temperature in the process of mold forming so as to guarantee high quality of products and raise the productive efficiency
SANSHUN Machinery is one of the top 10 Chinese injection molding machinery manufacturer. We are manufacturing different types of injection molding machines, injection blow molding machine, and Auxiliary equipment. Our machines had been exported to more than 60 countries.

Characteristics
Sanshun Machinery offers total Material Management support from Auxiliary equipment products, system design, installation, technical support and customer service. Sanshun competitively delivers advanced designs and the highest quality equipment. Our technologies in material conveying, storage, drying, and blending gives you every advantage in your processing applications. We handle a variety of unique auxiliary equipment for molding with a focus on injection molding machines which are used as processing equipment. Our product lineup is extensive and various offerings are available to meet quality improvement and practical requirements of customers. We provide you with our best suggestions to meet your needs.

Advantages
Heat Transfer systems, environmental, low noise, quick response, high-efficiency, high-speed automation, customized material handling systems, Easy plastics processing operations.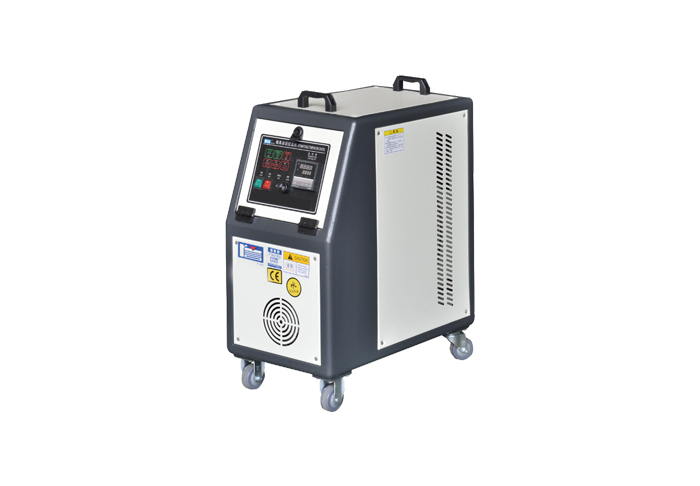 Technical Parameters
Model
Temperature (℃)
Heat capacity (kw)
Pump power (kw)
Pump flux (L/min)
Pump pressure (m)
Mold Connecting
External size L×W×H (mm)
Weight (kg)
SCM-6-W
Water 95℃(120℃)
6
0.37
40
30
3/8"2×2
580×350×780
62
SCM-9-W
9
0.75
135
25
3/8"4×2
680×350×780
90
SCM-12-W
12
0.75
135
25
3/8"4×2
680×350×780
110
SCM-6-O
Oil 170℃ (200℃)
6
0.37
40
30
3/8"2×2
580×350×780
75
SCM-9-O
9
0.75
135
25
3/8"4×2
680×350×780
100
SCM-12-O
12
0.75
135
25
3/8"4×2
680×350×780
125
Advantages & Features
. Hot medium liquid : water or oil convertibly
Either water or oil can be used as a hot medium liquid according to the needs of mold forming temperature. Its high selectivity is
certain to bring in high economic efficiency.

The flow of vertical pump can be always kept steady and its service life keeps long.

This interior tank will not get rust for long term, which is sure to prevent from any blockade of pipes and keep long-term service of
pump.

. Transparent water (oil) level viewer
The transparent water (oil) level viewer can easily be used to view and inspect the quantity of medium liquid and be reminded to
refill the medium liquid from time to time.

. Automatic alarming device
While water (oil) shortage occurs in the container, this device will automatically light up and start alarming and cut off the electric
power of heaters and pumps, thus to guarantee their safety.

. High-precision automatic temperature control
The measure of temperature is very sensitive and accurate, little change of temperature helps to keep products both fine and
delicate.

. Minimze products wastage
The mold can reach the required temperature right at the beginning of operation, thus can obviously minimize products shortage.

. Maintain proper temperature.
Either in continuous operation or in temporary shutting down, mold-forming temperature can always be kept proper to guarantee
the best quality of products and further improve the forming process.
. Compact in size, light in weight
Easy to install, convenient to operate, convenient to move and little room to occupy.
Get the latest price? We'll respond as soon as possible(within 12 hours)