SHE155V Variable Energy Saving Injection Moulding Machine
SHE155V Variable Energy Saving Injection Moulding Machine
Series : Variable Energy Saving Injection Moulding Machine
Brand :SANSHUN
Model :SHE155V
Applications :For making plastic products
SANSHUN Machinery is one of the top 10 Chinese injection molding machinery manufacturer. We are manufacturing different types of injection molding machines, injection blow molding machine, and Auxiliary equipment. Our machines had been exported to more than 60 countries.

Characteristics
Sanshun Variable Pump equipped Plastic Injection Molding Machines consumes 30–35% less energy compared to a fixed pump. It is mostly used for high speed (packaging components) IMM as the cooling time for the components is negligible. So the motor runs continuously performing operations. Variable pump injection machine, at the same speed, can change the displacement of the hydraulic pump, and the motor load will also change with displacement, so as to save electricity. The main difference between the variable quantity pump and standard pump is output power, output power of the variable pump is changed with the load change, and the output power of the pump is relatively constant, in a small flow of actions, the output power of the variable pump is very low, but the quantitative pump output power constant.

Advantages
Energy saving, environmental, Economical, constant-speed motor, quick response, variable-displacement pump, Improve Production efficiency.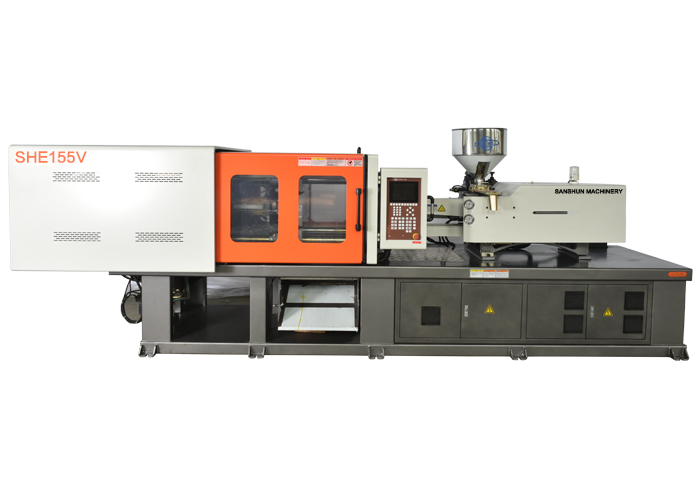 Technical Parameters
MODEL
SHE155V
INJECTION UNIT
UNIT
A
B
Screw diameter
mm
42
45
Shot size(theoretical)
Cm³
318
362
Shot weight
g
286
326
Injection pressure
Mpa
174
151
Injection rate
g/s
135
155
Screw L/D ratio
L/D
22.3
20.8
Screw speed
r.p.m
0-190
Nozzle Diameter
Srmm
10
CLAMPING UNIT
 
 
Clamp tonnage
KN
1550
Toggle stroke
mm
405
Mould Thickness
mm
170-440
Space between tie-bars
mm
455X425
Ejector stroke
mm
155
Ejector tonnage
KN
70
Ejector number
Piece
5
Hole Diameter
mm
125
OTHERS
 
 
Heat power
KW
11.1
Max. pump pressure
MPa
16
Pump motor power
KW
15
Valve Size
mm
16
Machine dimension
m
5.0X1.58X1.7
Machine weight
t
5
Oil tank capacity
L
250
Platen Dimensions

Advantages & Features
.Mechanical, electrical, hydraulic triple chain security protection ( large, medium machine).
.Precise Screw System with optimized design.
.Injection device control position.
.Hopper Sliding Arrangement for material removal.
.PID temperature control with a high precision electronic ruler.
.Robust & Rugged 5 points toggle clamp with large mould opening stroke.
.High Wear Resistance & High Strength Characters Gear Nut (Tie bar Nut) gives Rigid & Positive Clamping force.
.Double cylinder balanced injection unit.
.Nitride Hardened Screw and Barrel for wear resistance and long life.
.High Torque Hydraulic motor for driven plasticizing Screw Counter.
.Multi-stage injection speed, refilling speed and the pressure setting.
.Modular injection unit design offering a wide choice for shot weights.
.Hard-Chrome Plated High-Tensile Steel Tie-Bars with Stress-Relieve-Design.
.Low-pressure mold protection device.
.Progressive Type auto grease lubrication system.
.Heavy-duty toggle design give trouble free precise clamping force for long period.
.Shaking ejector for multi-cavity mold.
.Machine motor stop whiling rear gates opening.
.Hydraulic tank low oil level alarming.
.High-efficiency oil filter device to extend the normal life of the hydraulic oil.
.High-performance and Large colour LCD display screen.
.PID Temperature Controller for Accurate Control.
.High precision suction filter.
.High strength mould platen.
.Anti-vibrating pads with stronger dampening.
.Abnormal errors alarm function with motor safety protection device.
.Linear transducer controls Clamping, Injection, and Ejection.
Get the latest price? We'll respond as soon as possible(within 12 hours)