Color Mixer
Series :Plastic Auxiliary Machine
Brand :SANSHUN
Model : Color Mixer
Applications :Mixing and stirring of plastics materials
SANSHUN Machinery is one of the top 10 Chinese injection molding machinery manufacturer. We are manufacturing different types of injection molding machines, injection blow molding machine, and Auxiliary equipment. Our machines had been exported to more than 60 countries.

Characteristics
Sanshun Machinery offers total Material Management support from Auxiliary equipment products, system design, installation, technical support and customer service. Sanshun competitively delivers advanced designs and the highest quality equipment. Our technologies in material conveying, storage, drying, and blending gives you every advantage in your processing applications. We handle a variety of unique auxiliary equipment for molding with a focus on injection molding machines which are used as processing equipment. Our product lineup is extensive and various offerings are available to meet quality improvement and practical requirements of customers. We provide you with our best suggestions to meet your needs.

Advantages
Heat Transfer systems, environmental, low noise, quick response, high-efficiency, high-speed automation, customized material handling systems, Easy plastics processing operations.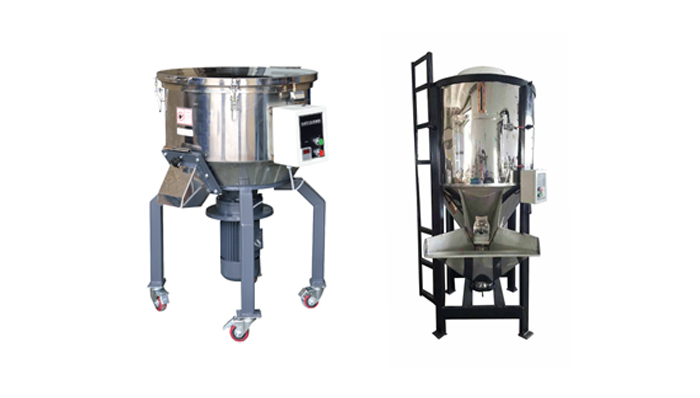 Technical Parameters
Type
Model
Power
Motor power (kw)
Mixing capacity
(kg/min)
External size
L×W×H (mm)
Weight (kg)
Vertical type
SHS-50
380V/50HZ/3Ø
1.5
50/3
860×740×1100
150
SHS-100
3
100/3
960×1000×1200
230
SHS-150
4
150/3
1080×1080×1300
250
SHS-200
5.5
200/3
1400×1200×1550
280
Screw type
SHS-500
4
500/10
1700×1300×2600
400
SHS-1000
5.5
1000/10
1800×1600×2800
800
SHS-1500
5.5
1500/10
1900×1850×3000
900
SHS-2000
5.5
2000/10
2250×2200×3200
1000
Advantages & Features
.Stainless steel body and vane, easy to clean and absolutely no pollution.

.Chain safety device protects the safety of operator and machine.

.Thick material, strong and durable.

.Well-distributed mixing can be done in a short time,low energy consumption and high efficiency.

.Time setting can be controlled easily and precisely in the range of 0-15 minutes.

.Screw type mixer with heater also available.
Get the latest price? We'll respond as soon as possible(within 12 hours)